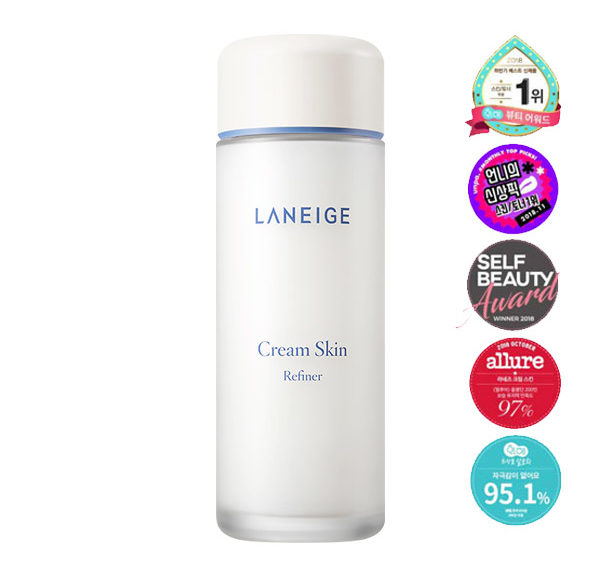 TOP 5 BEST KOREAN SKIN TONER
TOP 5 BEST KOREAN SKIN TONER
Toner works as a cleanser, also a skincare.
You can use toner to wipe off any residue that may be left behind on your skin after washing your face. And you can use it as first skincare step to
prep your skin to absorb other products better. So, it's important that you use a toner that can be beneficial not only to your skin but enhance the overall effectiveness of your routine too. The decision to buy one toner could be confusing with the overwhelming choices available in the market nowadays. That's why we have narrowed down the list of best Korean skin toner for you guys. Check them out below.
No.1 LANEIGE Cream Skin Refiner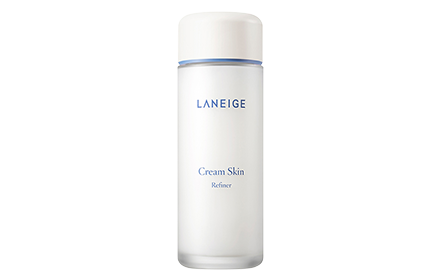 Experiences toner and moisturizer in one step with this genius product! Enriched with amino acid from White Leaf Tea to fill the skin with instant moisture and strengthen the skin barrier. Also contains Meadowfoam Seed Oil to retain moisture for long lasting hydration. Gentle and effective on every skin types!
No.2 KLAIRS Supple Preparation Toner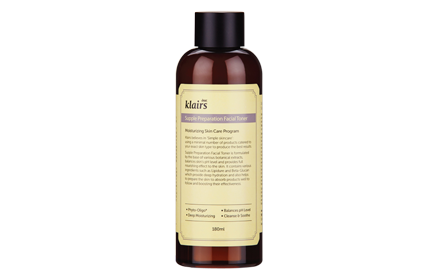 This best-selling toner from Klairs is formulated with hyaluronic acid and beta-glucan to give maximum moisture to the skin. It also designs to balances the skin's pH level and improves the effectiveness of the entire skin regime. Packed with amino acids from wheat to help reduce inflammation on the skin. Blended with various non-irritating plants-derived essential oils for calming scent. Recommended for those looking for a simple, yet hydrating toner.
No.3 SON & PARK Beauty Water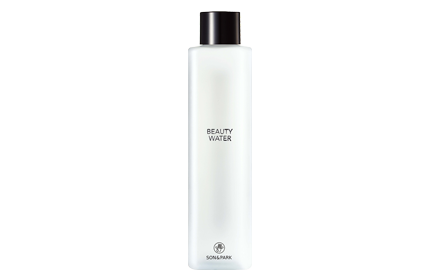 This liquid totally deserved its name – Beauty Water! This is more than just a toner but also cleansing water, an exfoliator and facial mist. It will creates a clean base for your routine and balance out the skin pH. Made of 93% natural origin ingredients including willow bark tree and papaya fruit extract for mild exfoliations of dead skin cells. Also contains witch hazel water, rose water, lavender water and orange fruit extract for additional moisture. Use in the morning as cleansing water or to prep the skin before makeup, midday as a quick refresher, and during the night to help sweep away any remaining impurities on the skin. This toner is good for every skin types!
No.4 COSRX AHA/BHA Clarifying Treatment Toner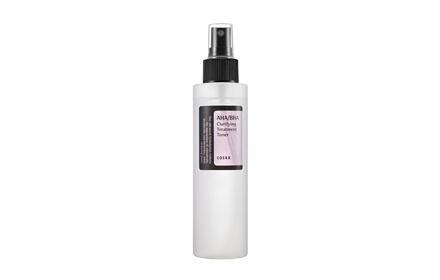 Exfoliation and hydration in a spray bottle is such a convenient. Formulated with apple fruit water and glycolic acid (AHA) to remove dead skin cells on skin's surface in such a gentle way while provides moisture. Also loaded with willow bark water and betaine salicylate (BHA) to take care of the clogged pores. All these amazing ingredients were blended together in a mineral water to maximize its effectiveness. Not just that, this toner will help you prepping your skin to receive the nourishment and treatment from your other skincare products too
No.5 INNISFREE Green Tea Balancing Skin EX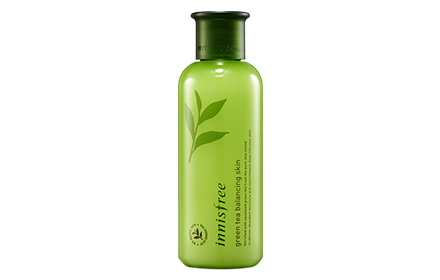 A moisturizing toner specially formulated to help balancing the skin's oil-water ratio. Made with Jeju Island very own organic beauty green tea that rich in amino acids and will supply the skin with plenty of moisture. Green tea also has anti-oxidant properties that could help the skin fight against harmful free radicals. Innisfree spent 10 years researching about Beauty Green Tea and now it's all worth it.
Toner seems to be unnecessary step in skincare routine, thus some might skip it. But believe us, toner's matter. Good toner will help balance out skin's pH and prep the skin for whatever step you do next. So, buy your toner wisely. We hope this list could give you some idea on what to shop for toner after this.
Summary
Article Name
TOP 5 BEST KOREAN SKIN TONER
Description
Toner works as a cleanser, also a skincare. You can use toner to wipe off any residue that may be left behind on your skin after washing your face.
Author
Publisher Name
Publisher Logo