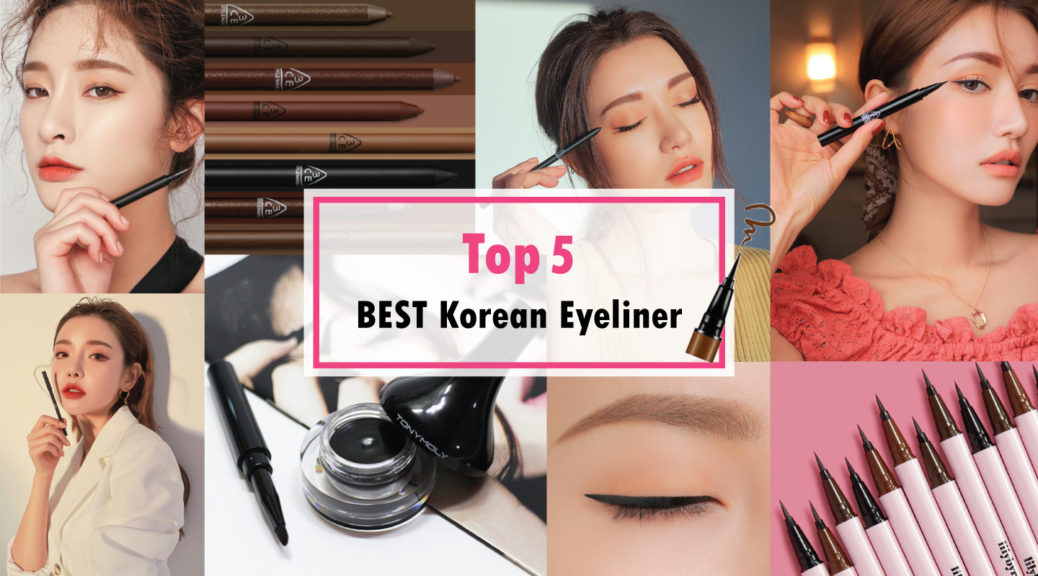 TOP 5 BEST KOREAN EYELINER
TOP 5 BEST KOREAN EYELINER
Looking for Korean eyeliner? Find out what are the popular and best-selling eyeliners in Korea at the moment.
Eyeliner is one of the most popular makeup products that evolved so much to date. Though the products are presented in different packaging, in general, there are five main types of eyeliner: liquid, cream, gel, kohl, and pencil. From light stroke to daring cat eye to dramatic line, the way you draw your eyeliner can change your overall makeup look. Eyeliner can help enhance the eye shape, giving them more definition as well as making them to appear bigger, longer and more wide awake. Whether you are a beginner or a professional, you surely want your eyeliner to be fool-proof and lasts all day long. The endless choices available in the market and thousands of reviews can be overwhelming. So here in this post, we have compiled 5 best Korean brand eyeliners that will be helpful for your decision-making.
No.1 TONY MOLY Back Gel Eyeliner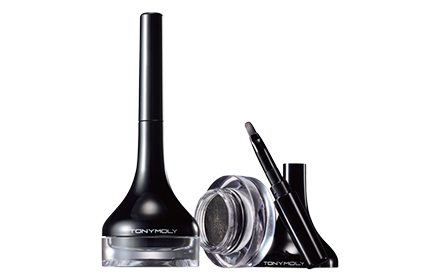 Since its release in 2013, TONY MOLY Back Gel Eyeliner has become one of the most popular Korean eyeliners of all time until now, not only in Korea but also globally. PONY, the famous Korean makeup artist has been introducing this TONY MOLY gel eyeliner several times in her makeup tutorials too.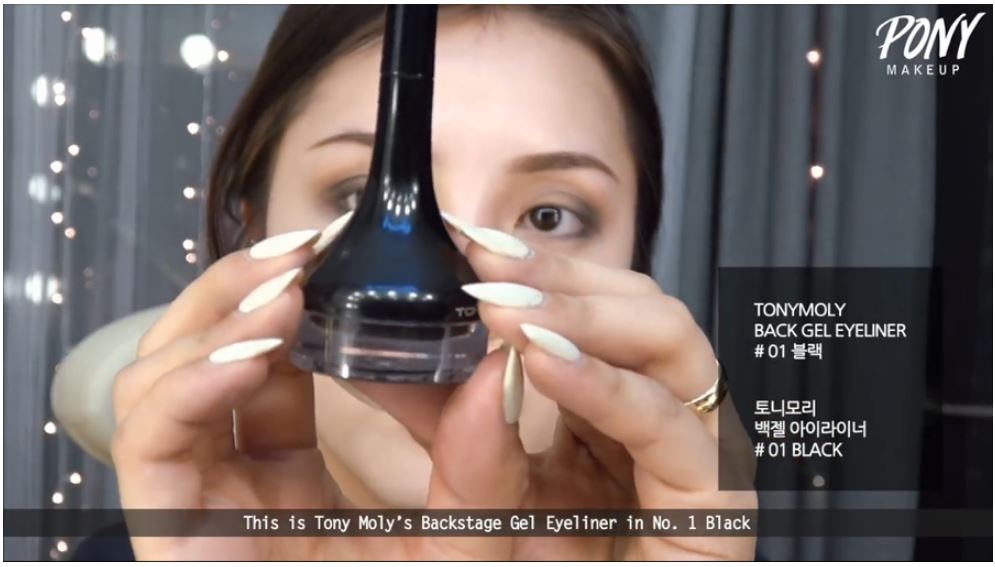 Available in 8 shades, this Tony Moly gel eyeliner has intense pigmentation. Some shades are in matte texture, while some shades have subtle pearly finish. It comes in a small pot where the handle is actually the brush applicator; a clever way to store and keep the brush away from dust. This eyeliner has the most ideal consistency when it comes to gel – almost creamy but not too soft or waxy. This will guarantee even and smooth application. The brush included has a decent quality of stiffness that helps create precise thickness. The bristles are soft enough for the delicate waterline so you can control it better.
Gel type eyeliner often associates with professional makeup artist and not recommended for beginner. However, this Back Gel Eyeliner is totally beginner friendly, thanks to its formula and the brush itself. This water-resistant gel liner stays all day without smudge but it is so easy to remove. Bonus point is this gel liner contains grapeseed oil and macadamia oil to help moisturize the skin. Give this eyeliner a try if you want an affordable, long-lasting, decent gel eyeliner.
No.2 CLIO Waterproof Brush Liner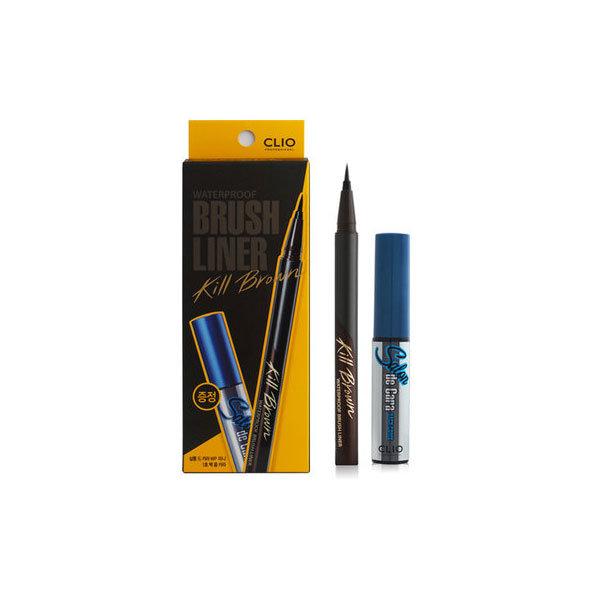 Clio Waterproof Brush Liner liquid is an award-winning eyeliner which has been highly praised by Korean bloggers and media for its impressive smudge-free formula. This liquid eyeliner comes in 2 matte shades; black and brown. Highly pigmented and waterproof, this eyeliner stays all day without smudges. It features a thin tapered brush tip which comes handy when you want to create precise, sharp lines. The bristles of the brush head are soft and flexible which allow you to effortlessly draw the thinnest eyeliner possible. Don't worry, it won't get splayed apart even after wiping it when you use the eyeliner over shimmery eyeshadow. CLIO also utilized airtight cap to prevent the liquid from dying up faster and an unique ink tank inside the pen so that you will get fresh vivid ink with every usage. Besides that, you can even use the eyeliner as an eyebrow product! With its fine brush tip, you can draw realistic looking hairs to fill up your brows.
Go for CLIO Waterproof Brush Liner if you are someone who prefer precise application. Though it's a bit on the pricey side, you surely will fall for it once you gave it a try, the high quality brush and super smudge-resistant formula are definitely worth a few bucks extra.
No.3 BBIA Last Pen Eyeliner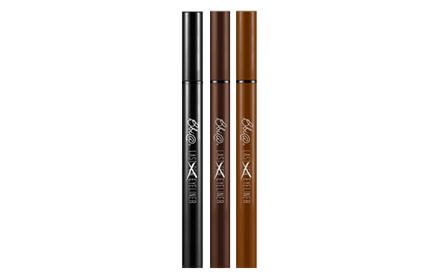 Here's another liquid eyeliner but it's on the more affordable side. BBIA Last Pen Eyeliner has 5 shades in total – from classic black and brown to burgundy colour. This eyeliner is being loved for its inexpensive price tag plus its decent quality of long-lasting, waterproof formula. The fine brush tip is perfect for drawing thin line or applying them as close as possible to the lashes line. Once apply, it dries and sets quickly to prevent any transfer when you blink. It doesn't smudge as easily and stays on for a long time, but still it can be easily remove with makeup remover. It has the same airtight cap and ink tank feature as Clio Waterproof Brush Liner so you know the product will never dry up on your stash.
No.4 ETUDE HOUSE Oh M' Eye Line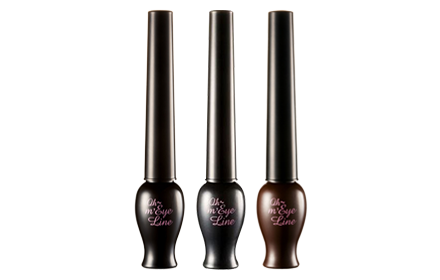 Etude House Oh M'Eye Line is one of the classic liquid eyeliners that is raved by many bloggers. Available in 3 basic shades; black, brown and grey. It comes in a cute vase-like packaging. The applicator is a fine, thin brush tip and the handle is long enough for you to feel comfortable to hold while using it. You will have great and stable control when drawing your eyeliner. This liquid eyeliner is rich in pigment, allowing you to draw vivid line in single stroke. This eyeliner also formulated with citric acid to help the product glide smoothly on the eyelid. This is not waterproof eyeliner though, which might be good news to a newbie since you don't need specific makeup remover to clean them. This one might be perfect for newcomer in makeup as it's cheap and has decent staying power.
No.5 3CE Super Slim Pen Eyeliner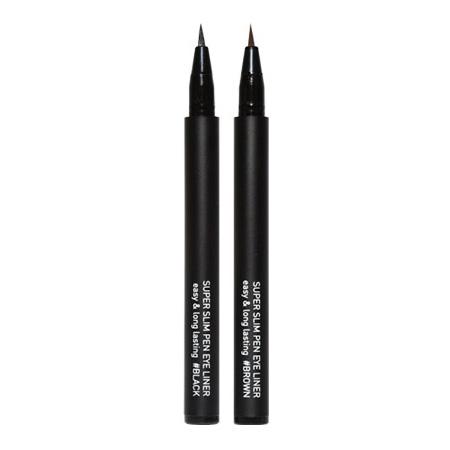 As you can tell from its name, 3CE Super Slim Pen Eyeliner features a slim, flexible brush tip applicator. With the ultra-fine brush tip applicator, you are free to draw thin or thick line without irritating the delicate eyelid area.

The brush tip also allows you to experience smooth application so you will not end up with harsh, unnatural strokes. It comes in a sleek pen design and available in 4 beautiful shades: black, brown, light brown and burgundy brown. Though this product is non-waterproof, it still has a decent longevity and will not smear around the eyes. This pen eyeliner has a nice pigmentation to it, giving you a more toned down and soft final eye makeup. The cap of the liner shuts very tightly so you would never ended up with dry product after opening the seal.
3CE is a brand which is considered as high end brand in Korea. So this eyeliner is a bit on the expensive side compared to other brands, but it's still very affordable. Check out the 4 gorgeous shades of 3CE Super Slim Pen Eyeliner below.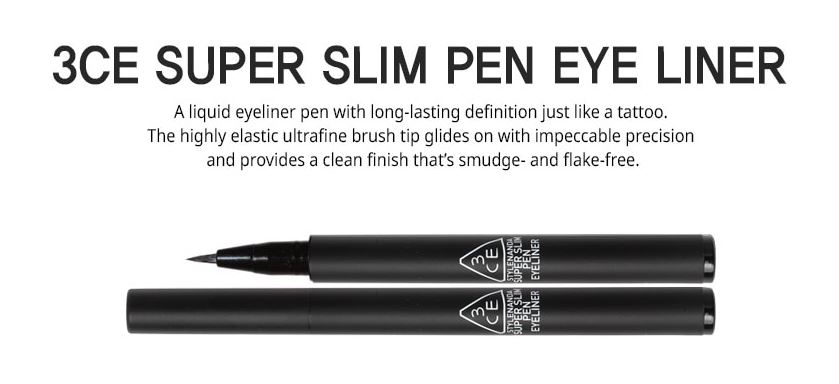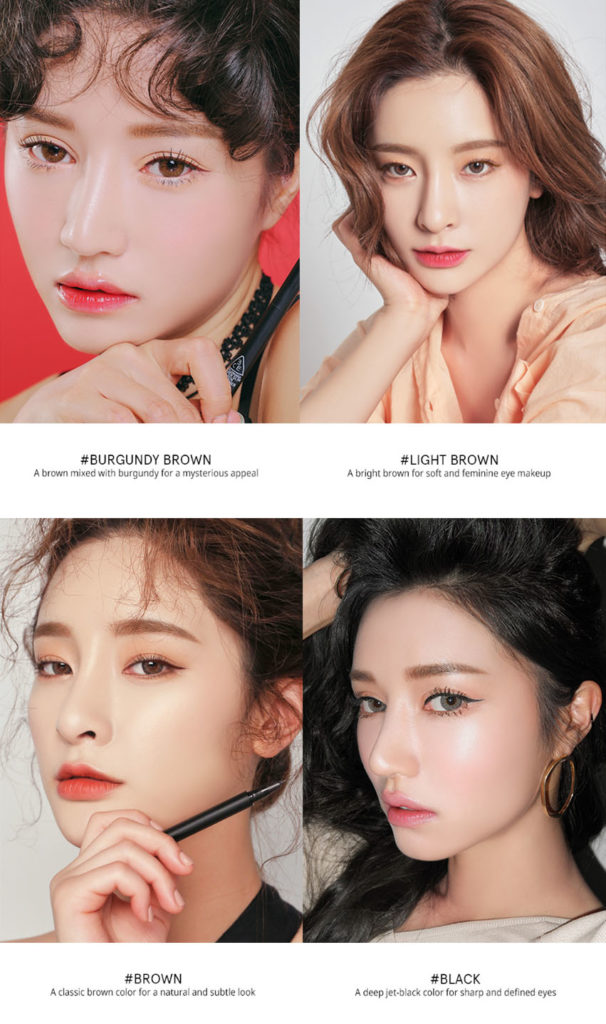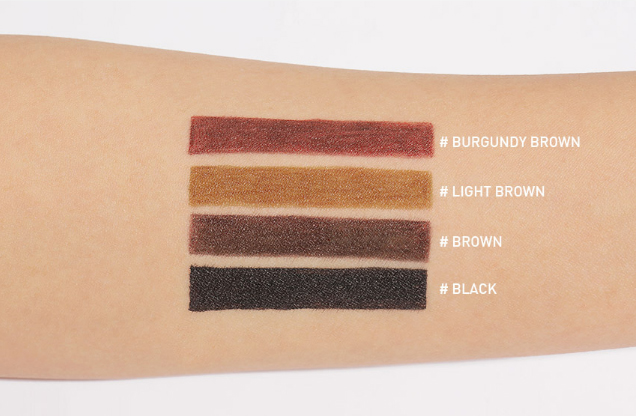 Eyeliner can be intimidating to beginner, but with much practice and a good eyeliner, anyone can master the skill in no time. Eyeliner complements your eyes, it's something that you don't want to miss in your beauty routine, as it can make all the difference to your look. A simple winged eye or a bold line of colour on the eyelids will definitely give a new vibe to your makeup. We hope this list can help you to narrow down the options when you plan for your next eyeliner purchase.
Compare your favourite Korean eye makeup products prices here https://pikiprice.com/Eye/